[Announcement] Successful Completion of Handover Ceremony for Former and New Program Chairs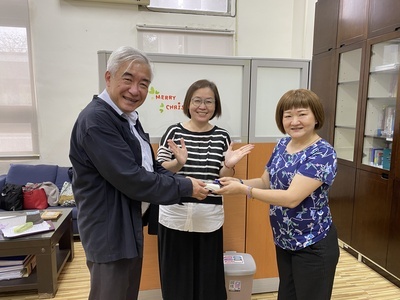 The handover ceremony between the old and new directors of our program was successfully completed on April 19, 2023. On April 20th, we welcomed our 6th new chair, Associate Professor Tao Yupu, who has previously taught and assisted in related program activities. We hope that Dr. Tao can help revitalize the program and contribute to its future development.

Since joining our university in 2008, Dr. Chi Wanhsian has devoted a great deal of effort to our program's courses, students, and administrative work. In particular, since taking on the role of chair on April 20, 2017, she has made every effort to maintain and improve the quality of our independent master's degree program and the quality of our faculty. We are extremely grateful for Dr. Chi's six years of dedicated service to the program and for her contribution to its development. Dr. Chi served as chair for two terms, and on April 19, 2023, she officially handed over the position in a successful handover ceremony, allowing the program to continue to grow under the leadership of the new chair. We would like to thank Dr. Chi for her selfless dedication and contribution to the program, and wish her continued success in her future work.